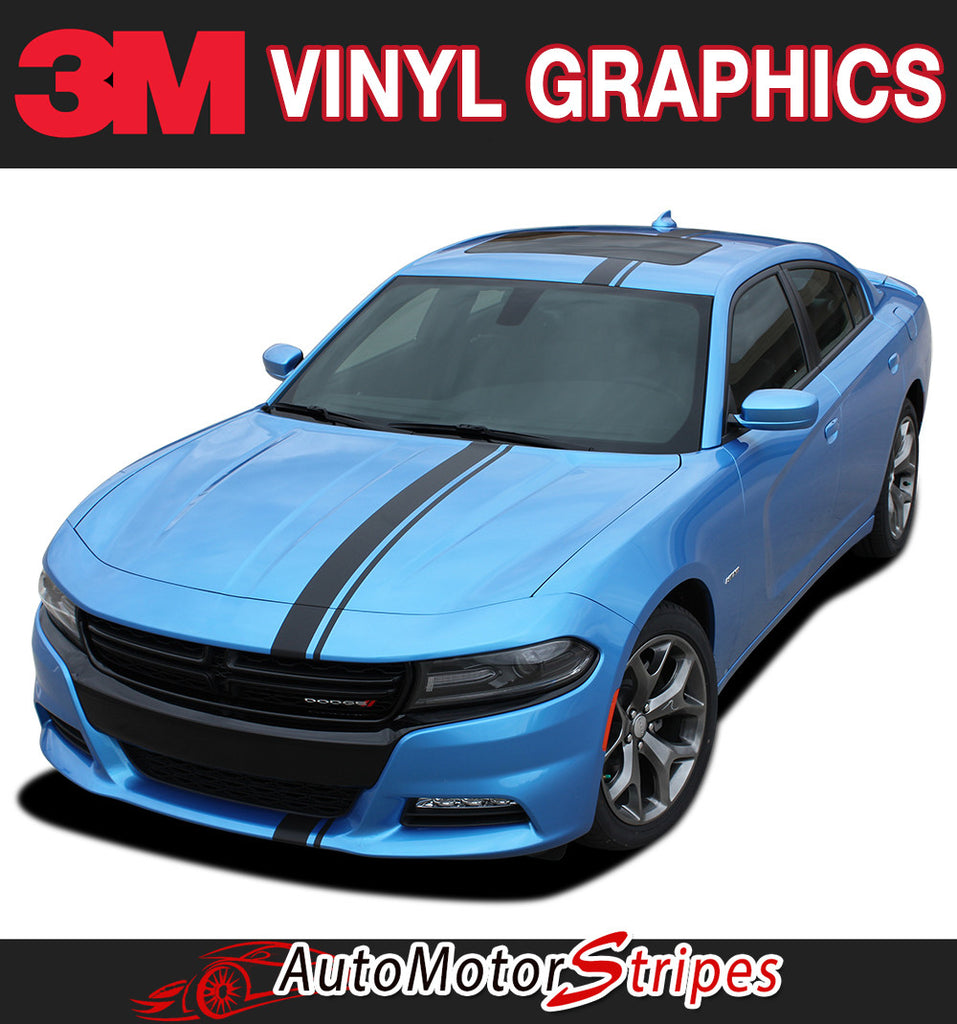 E-RALLY 15 vinyl striping package, brand new from AutoMotorStripes!  This is the fast way to get noticed with this factory OE inspired hood offset euro rally striping vinyl graphic style! This vinyl striping design is based on the custom factory graphic kit, and is an accent decal package that quickly moving to our top vinyl striping sellers list, for the current generation of vinyl graphics for the new Dodge Charger! This vinyl stripe kit has been specially and painstakingly measured for precision fitment and designed to fit the 2015 2016 2017 Dodge Charger SE, SXT, R/T, Plus, Hellcat. See precise fitment for the exact model/year mentioned above. Please remember to also choose the correct vinyl options for your particular Dodge Charger model stripe kit from those in the menu shown above. The vinyl decal sections sections included with this vehicle specific vinyl graphic kit are front bumper stripes, hood striping, roof striping, trunk decals, spoiler decals, and rear bumper graphic decals. You can now choose the options needed from the menu before adding to your cart, including the premium cast vinyl grade needed. This design is based on a classic, and is an exterior accessory for the Dodge Charger model and gives it a very modern day upgrade! Why did you let your Charger go so long without these vinyl graphics? You will receive many years of enjoyment with this weather resistant and durable custom factory vinyl style!
These vinyl graphic kits are professionally designed, test fitted to exact vehicle specifications and measurements, and requires minimal and in most cases no trimming of the vinyl, which saves the installer from the risk of cutting the paint on install. These striping graphics are produced in thicknesses of 2-mil to 3.5-mil High Performance Graphic Decal Films, including vinyl graphic series from 3M, Avery Dennison, and Ritrama, with manufacturer ratings of five to 8 plus years for life expectancy of the vinyl, so be sure to read all vinyl care tips associated with the particular vinyl purchased to get the most life out of your vinyl decal investment!

We offer affordable vinyl vehicle specific racing and rally striping in two grades of automotive cast vinyl, "Premium" wet installation vinyl and "Premium Plus+" dry installation vinyl, which allows for superior durability, stability and conformability to the vehicles painted surface. Both types of cast vinyl are the highest quality available for custom vinyl graphics and meet factory OEM standards, however both the wet install and dry install have their particular advantages, mostly in terms of installation ease. Our "Premium" high performance 2 mil cast vinyl stripes feature permanent, acrylic, pressure sensitive adhesive, to be installed with the "wet" method. Our "Premium Plus+" should be installed using a "dry" method, and the air release striping technology allows for re-positioning of the vinyl decal kit until pressure is applied with the installation tool.  Doing this allows the installer to make small adjustments during the installation of these vinyl graphic packages.

Our "Premium Plus+" vinyl graphics used in the production of our accent striping, decal packages, and vehicle specific vinyl graphic line, can come with material in either 3M 1080 Wrap Series or Avery Supreme Wrap "ASW" Series vinyl.  These materials offer wonderful conformability with superior UV protection, and have a manufacturers warranty. Please see the warranty page for more information. Both our Premium and Premium Plus+ cast vinyl materials are modern, high-tech, durable, and come with a patented, long term removable acrylic adhesive, with weather resistance manufactured into the vinyl.  We do recommend following all manufacturers care tips to get the most life out of your new vinyl graphics kits, decal packages, and accent striping styles.  Please see more information on the 3M, Avery Dennison, and Ritrama websites, and also check out our AutoMotorStripes "how-to" installation links for more information.  Now you can look like a true professional by choosing only a professional grade "Premium" or "Premium Plus+" vinyl graphic film series!