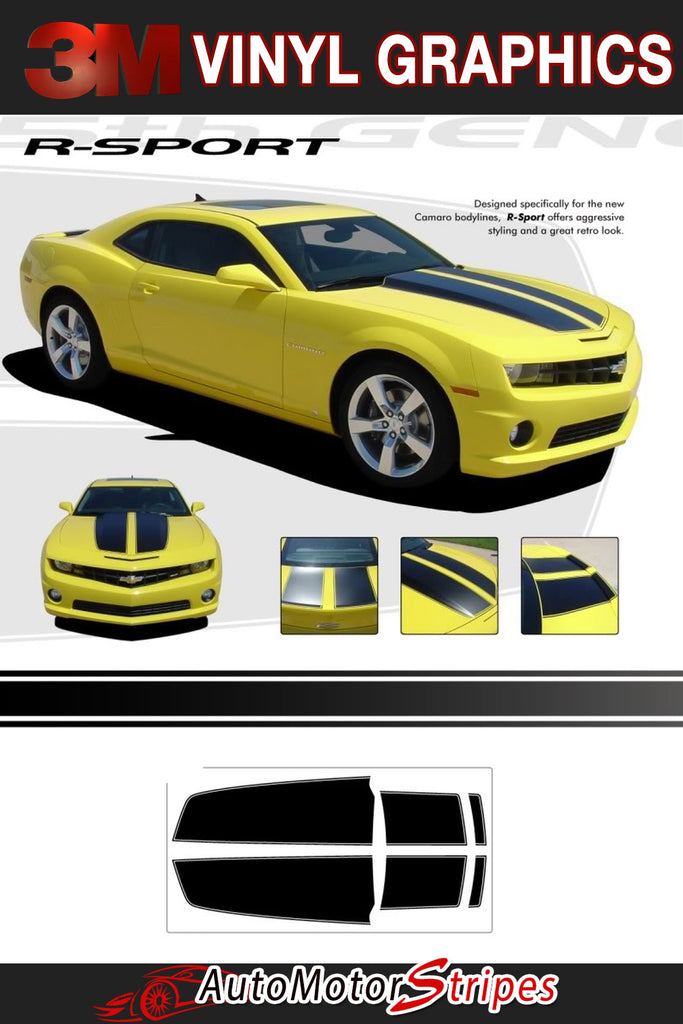 We have 2010-2015 Chevy Camaro Stripes, Chevy Camaro Vinyl Graphics, Chevy Camaro Racing Stripes, Chevy Camaro Striping Kits and Chevy Camaro Decal Packages for your Camaro LS, LT, RS, SS or Camaro ZL1 Z28.  Add to the exterior decor of the Camaro with these accent car striping kits.  AutoMotorStripes features durable Professional 3M Quality Vinyl Graphics in Vehicle Specific Custom and Factory OEM Styles!
AutoMotorStripes.com supplies high quality cut to fit Chevy Camaro stripe kits, Camaro Racing Stripes, Chevy Camaro Vinyl Graphics, Chevy Camaro Side Stripes, Camaro Hood Stripes, Camaro side graphics decals, Camaro body stripe kits and more. Our collection of Chevy Camaro vinyl stripes and graphics kits that are guaranteed to set your Chevy Camaro apart from all the rest. The sleek lines of the Camaro look amazing and will benefit from an upgrade with our best quality Chevy Camaro OEM style racing stripes and decals kits! We are proud to offer you top-selling vinyl graphics that easy to install and manufactured from high quality automotive grade vinyl.

We distribute the highest quality Chevy Camaro stripes and Chevy Camaro vinyl graphics and produce vinyl decals for the Camaro, and there is a great demand from Chevy dealerships and professional vinyl stripes installers, and you will pay a fraction of the price for these Chevy Camaro vinyl decal graphics as found from a local Chevy dealership. These Chevy Camaro hood stripe and decal kits are precision cut for a perfect installation every time, because precision vinyl cutting techniques ensure these Chevy stripes will complement the sleek lines of your Camaro with the absolute minimum of trimming needed! Our Chevy Camaro side stripe kits will give your Camaro a muscle truck makeover. Place an order today for Chevy Camaro stripe vinyl graphics kits and your order will ship within 24 hours!
Choose from reliable Premium (Wet Install) to Premuim Plus+ (Dry Install) vinyl, including 3M High Performance Automotive Grade Vinyl, 3M 1080, Avery Dennison 900 Series, Avery Supreme Wrap, and Ritrama Cast quality professional vinyl series.  Choose colors ranging from matte black, gloss black, silver metallic, charcoal, gun metal, white, gold, orange, yellow, and so many more!

AutoMotorStripes.com is now your dependable source for fast, affordable, high quality vinyl stripe exterior accessories and vinyl graphics for your 2010 2011 2012 2013 2014 2015 Chevrolet Chevy Camaro vehicles!
Check out our new Youtube page!  New Installation Videos coming soon!