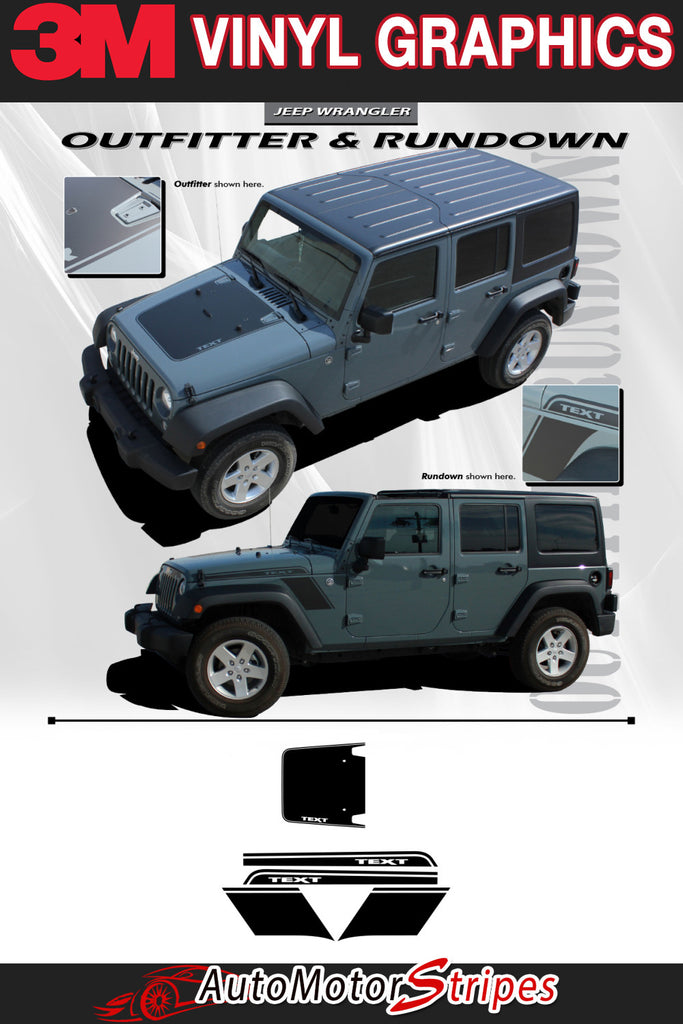 Jeep Wrangler RUNDOWN vinyl graphic and striping packages, brand new from AutoMotorStripes!
 The new Jeep Wrangler is here! This Rundown Hood to Fender trim package vinyl graphic design will add style and class to your Jeep Wrangler! This vinyl striping graphic design has just what this Jeep model needs, an upgraded custom factory OE graphic decal style, and is a very popular accent striping package for our local Jeep auto dealers. These cars need a popular selling vinyl stripe package to help auto dealers sell the current generation of Jeep! You will purchase quality vinyl, because much time, effort and skill has gone into patiently and properly measuring this vinyl graphic style for precision fitment, and designed to fit the
2007 2008 2009 2010 2011 2012 2013 2014 2015 2016 2017 Jeep Wrangler.
Please see precise fitment for the exact model/year mentioned above. Please remember to also choose the correct vinyl decal options for your particular model from those in the menu shown above.
The vinyl decal sections sections included with this vehicle specific vinyl graphic kit are DRIVER and PASSENGER side graphic decals.
You can now choose the options needed from the menu before adding to your cart, including the premium cast vinyl grade needed. This design is based on a classic, and is an exterior accessory for the Jeep Wrangler model and gives it a very modern day upgrade! Don't let your Jeep go another day without these stylish vinyl graphics! You will receive many years of enjoyment with this weather resistant and durable custom factory vinyl style!